Linking up today with:
Five Question Friday
hosted by
My Little Life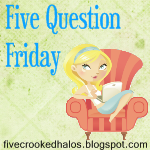 1.

Have you set any goals/resolutions for 2013?
Why yes, yes I have. Although this year I'm calling them "Resolve-olutions" and I have about 17 of them. Too much to list here but check out yesterdays post. Two quick ones: Go see Phoenix as much as possible and get two new tattoos!
2.
Have you made any travel/vacation plans for 2013?
Tentatively. I would like to explore Montana a bit more when The Hubs goes on vacation and would like to plan a trip to Washington for next Christmas. Also when Phoenix goes on tour those will be mini-breaks as I plan on seeing them in Washington, Oregon, Nevada, Canada and hopefully Montana. I don't like staying home for too long as I get cabin fever, I like to explore new places.
3.
What room is never cleaned in your house?
Really?! O.K....probably my bedroom. It's the room that guests don't go into and I can just close the door on the mess. Right now I have clothes on the floor and books still unpacked in boxes.
4. W
hat food must be in your house at all times?
Cheese, chips, tortillas and fruit. Oh, and cereal. Milk, juice and soda are a must too.
5.
Are you a hugger or more of a hands off person?
Pains me to say this, but....I'm a hands off person. I don't like PDA's or holding hands. I do hug the kids goodnight or when it looks like they've had a bad day but other than that.... I do give good handshakes!
Well....I feel I bared myself a little here but it was fun...I might be back next Friday... ;)
relax,
paulina
can we get a li'l Phoenix here?? (yes, i'm slightly obsessed)