linking up with:
5 Question Friday
hosted by
My Little Life
.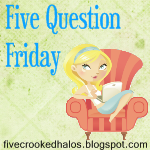 1. F
lu mist? Flu shot? Or take your chances?
Definitely take my chances. No-one other than The Hubs gets flu shots. No-one, other than The Hubs, gets sick around here. Seriously. I haven't been sick for about two years. If I call in sick at work I'm most likely faking it, if the kids get sick it only lasts 24 hours. Cupcake hasn't been sick for over a year, neither has Little Monster. *knock on wood*
2. D
o your kids have iPads? W
hat are some good educational apps? Price?
No. I don't have one either. So.....yeah...skip.
3.
What are your favorite boy/girl baby names?
Boy: Oliver and Harry. Girl: Sophia and Constance. The Hubs and I couldn't agree on names so none of the kids got these names. :/ but...their names are pretty cute anyway...
4.
If an apple a day keeps the doctor away, which apple do you choose to eat?
(red/green, gala, red delicious...)
I don't like apples. I'd rather eat oranges and bananas.
5.
What is your favorite place to escape to for peace & quiet, to think? Why?
In house: bathroom. It's quiet I can turn on the exhaust fan and hear nothing outside of those walls! Ha! Also a nice warm shower is always conducive to thinking. Outside of house: the library. Again, it's quiet and everyone else is intent on thinking or reading. I can find a nice cozy corner and not be bothered. Now if only I could bring some coffee, I'd be set!
relax,
paulina