Resolutions. Shmesolutions.
Resolutions are something I write down on a scrap piece of paper, lose, then quickly forget about.
The only ones I remember from last year were to get a new tattoo, move out of state and read War and Peace. I did get a new tattoo, moved and instead of War and Peace I picked up Anna Karenina, brand new at a thrift store for .50 cents! Got about two hundred pages left. The rest of my resolutions? Ehhh...I have no idea.
This year I'm calling them "RESOLVE-OLUTIONS". I resolve to do these things this year. I kinda feel like the pressure is off, I won't feel guilty if I don't get to them right away and
if
when I accomplish them I'll be like "I did it!" And hopefully, I won't lose the list this year.
RESOLVE-OLUTIONS 2013
1. Apply myself to working
.
Got a couple of odd jobs lined up and I'll dedicate myself to actually doing them as long as possible (whole year?) instead of just blowing them off after a couple of weeks.
2. Apply myself to writing.
Get my first draft and second and third in the can. Start on the other ideas that are floating around in my head.
3. Get the kids and me on a cleaning schedule.
Sometimes I'll be like "meh, I don't wanna vacuum I'd rather watch Downton Abbey." No more, TV comes last and the kids need to help out more.
4. Do events around Missoula and write about them.
I applied for a job at the Missoula Chronicle, an online newspaper. It's pretty much the same thing I was doing in California, still no pay but I do get into events for free. I want to get my name out there.
5. Exercise more.
Self explanatory, but at least three days a week do cardio and lift weights while watching TV.
6. Drink less.
Again, self explanatory. I can't be drinking if I'm going to dedicate to exercise, they don't really go hand-in-hand.
7. Actively participate in the reading challenges.
I let this one slip by last year, this year I will keep up.
8. Be happy more and grouchy less.
Pretty much live each moment and find the silver lining in stuff and don't worry.
9. Participate in the European Community Culinary ABC's.
The goal is to do a different dish each month from a different country. Go here:
girliechef.com
to check it out. January is the Netherlands. This is just for fun.
10. Save money.
Saving money for #11 and a trip in December.
11. Go to as many Phoenix concerts as I can.
So happy they are touring this year, last saw them in 2010 and I'm tots excited!!
12. Call my best friend more.
Reconnected with Melissa, my best friend since high school and it's one of those friendships where you pretty much just pick up where you left off. I just gotta call her more.
13. Finish NHC program.
Let this one slip by last year in the hustle and bustle of moving and settling in. I only have like three more classes to take. I gotta "JUST DO IT!"
14. Subscribe to Harper's Bazaar.
Accomplished 1/12/13- was $12 for 2 yrs - even better!
Been looking for a magazine that fits my "just want to relax needs" and this one fits the bill. Got a notice that it's $15 for two years. Pretty good deal in my book.
15. Get new furniture.
We pretty much sold everything before moving and now that I have a new house to fill I can see what I'm desperately needing: nightstands, dressers, futons, bathroom decor...
16. Experience each day and don't think about the next paycheck.
Pretty much goes with #8. I can get wrapped up when I get paid next and then notice a week has gone by. Gotta slow down a bit.
and last but not least,
17. Get two new tattoos.
I want "Qui me alit me extinguit" on my right arm and an ankh on my right ankle and then I think I'll be completely done. Already have a scorpio, "Secundus ut nullus" and a dragon.
There. It seems like a lot but once I start breaking it down I believe that I can do it!
What are some of your resolve-olutions?
linking up today with:
This 'n That Thursday
hosted by
Katie Did What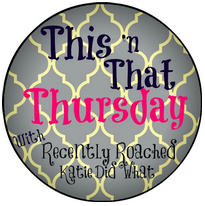 relax,
paulina
I leave you with this: